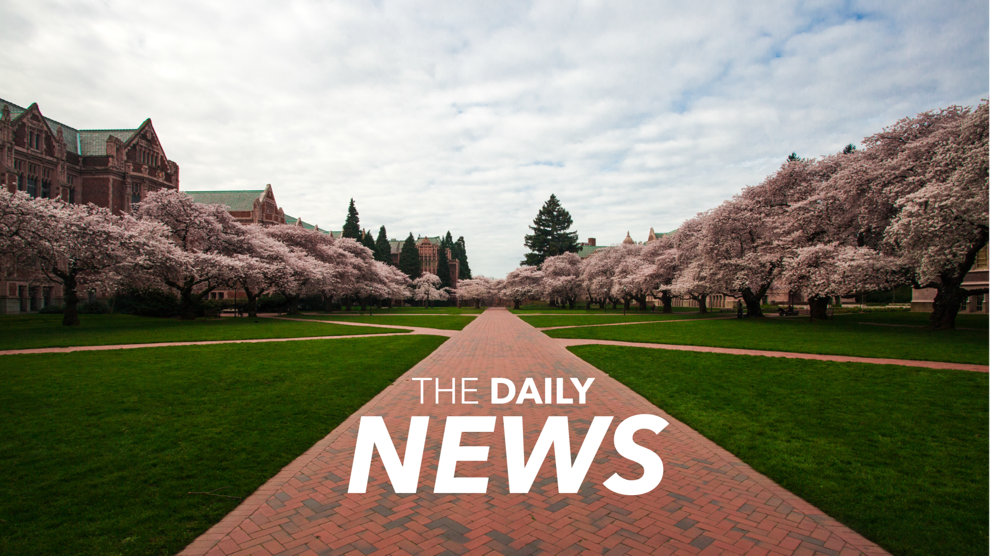 When the pandemic broke out and UW shifted to remote instruction, Chia-Chi Su, a third-year student majoring in communication, decided to go home to Taiwan and take online courses to quarantine with family. Because of the 15-hour time difference between Taiwan and the United States, Su's classes began at midnight and ran until 6 a.m.
"I had no choice but to stay up late when I had class and then sleep during the day," Su said. "This is the most common problem I heard from other international students in Asia."
Eventually, Su wound up with a sleep disorder due to her irregular lifestyle. This school schedule had a severe impact on her sleep quality and learning environment, Su said, and left her feeling emotional and frustrated, because this experience was not what she had expected from college life.
"My family was the lifeline saving me when I was down in the dumps," Su said. "They encouraged me to go out more when I did not have class — which helped me sleep well at night — and reminded me all the time that they were staying with me."
To improve online learning efficiency, Su said she tried to prioritize assignments and track her daily routines through Google Calendar. She learned to organize tasks and prepare in advance to finish everything on time.
Su, however, was not the only one struggling with online learning.
Asian Student Commission director Tianna Andresen said many students faced difficulties in finding a sense of belonging, had trouble accessing resources, suffered from social anxieties, and for international students, struggled with visa applications or requirements. RSOs also struggled to perform outreach and retain membership as well as create and share resources and events.
"We did our best internally to provide students with resources to support their health and studies and professional development during the pandemic," Andresen said. "We are an open avenue for Asian students to send us their concerns and actively try to work on solving them the best we [can]."
Andresen said that promoting different events from RSOs helped students mitigate feelings of isolation, and that adding more interns and volunteer roles helped advocate for students and their accessibility needs.
Troy Bonnes, an academic advisor for the department of communication, noticed that students were losing jobs, encountering other financial hardships directly related to the pandemic, and were even losing family and friends. 
"Some students struggled to feel motivated or engaged with online coursework, while others felt like they weren't getting their tuition's worth of education in this format," Bonnes said. "Some students had instructors who were less skilled at pivoting to remote learning, making it difficult to always understand exactly what the expectations were."
Bonnes said the practice of assisting students took many different forms, including connecting those who had lost their jobs to aid programs like Emergency Aid or the Delores Eyler Fund, and supporting students struggling with mental health by directing them to Husky Health & Well-Being resources.
As for international students, Bonnes helped those who had returned to their home country build a schedule of asynchronous courses and assisted students in isolation with finding ways to connect meaningfully with their peers.
On the other hand, UW communication professor Nancy Rivenburgh said students faced a wide variety of online formats. For asynchronous courses, it can be easy for students to forget about deadlines, while synchronous courses pose unique challenges for students who struggle with time differences and technology requirements.
"I know how important it is for online courses to be very organized and keep students engaged," Rivenburgh said. "Many students had to deal with family health issues related to the pandemic; this is very taxing emotionally and makes it hard to stay focused on class."
Having learned from experiences while teaching in the integrated social sciences online degree program, Rivenburgh said she designed her online courses to be "hyper-organized," with smaller weekly tasks to keep students engaged with the course. 
"My asynchronous course format is a series of visually appealing lessons of no more than 10 to 20 minutes each," Rivenburgh said. "I am also very flexible about due dates — given the challenges of the pandemic situation."
Unexpectedly, while the pandemic has brought many difficulties to students' learning environments, it has also given students the opportunity to develop personal growth through these challenges.
Bonnes said that many students learned how to pivot quickly and effectively from one set of expectations to a very different reality, and that they became skilled in being more gracious and grateful with others — as well as with themselves — as they navigated new uncertainties. 
"I think many students learned that they can still achieve most or all of their goals even when many situational aspects of their life are totally out of their control," Bonnes said. "This is an inevitable part of being a human and going through life."
Reach reporter Hsin-Yu Tsai at [email protected]. Twitter: @alisa2000hsinyu
Like what you're reading? Support high-quality student journalism by donating here.
https://www.dailyuw.com/news/community/uw-community-members-make-use-of-resources-to-reduce-difficulties-of-online-learning/article_6f96d5f0-8ee3-11ec-a58f-3f22573bb36a.html