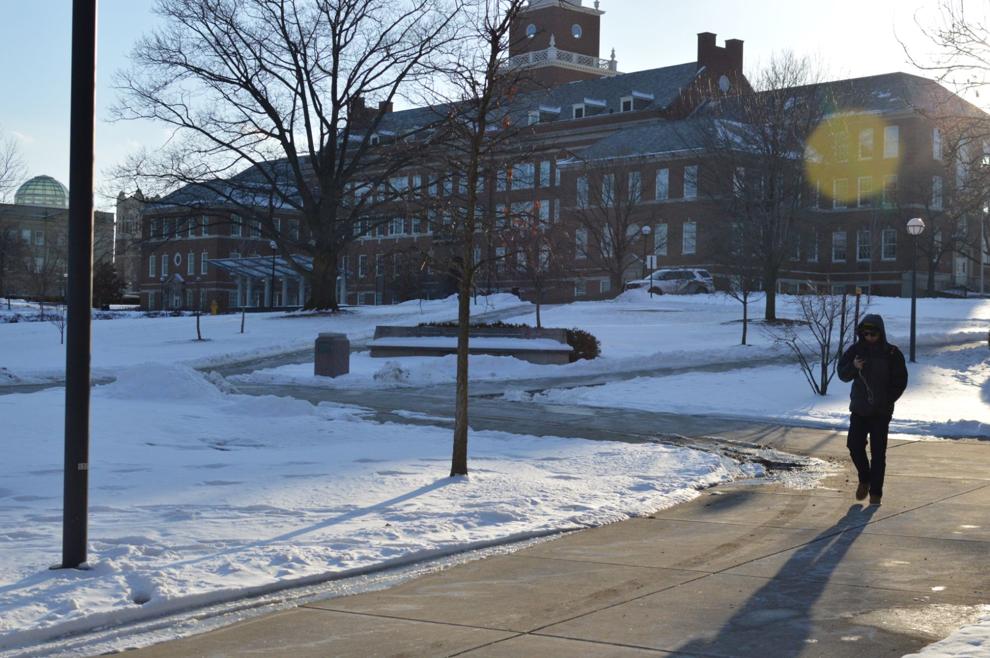 With virtual classrooms becoming increasingly common, some professors and students have grown frustrated with the University of Cincinnati's (UC) vague messaging on hosting online classes during university closures.
In a recent Feb. 2 announcement from the Department of Public Safety that closed UC due to inclement weather, a contradiction created confusion for members of the UC community.
"Classes, studios and labs that are scheduled for face-to-face instruction in on-campus spaces [are cancelled]," read the announcement. "However, all class instruction and learning that can be held online should continue. Staff that can work remotely should do so after consultation with their supervisor."
Provost Valerio Ferme spoke about the matter at the Faculty Senate meeting held on Feb. 10. "Inclement weather policies need updating," said the meeting report. "We need to be clearer in language, need to develop better policy."
"I would like to bring together a group of members of our community – administrators, faculty, staff and students – to talk about best practices and get a sense for how we might respond to these situations when they occur," said Ferme. "Once we have the discussions, my hope is to have better guidance on these topics."
Amber Peplow, associate professor of English and communications, was in attendance at the meeting and believes that UC should not hold classes online when the university is closed, especially in circumstances of inclement weather.
"I am concerned with the suggestion by Provost Ferme that we move classes online for inclement weather or other emergencies for two reasons," said Peplow. "First, this policy would be hostile to faculty with families. Secondly, this policy would violate the new online standards policy that the university just put in place and which the Faculty Senate endorsed."
The current protocol for campus closures due to inclement weather has not changed since before the pandemic in regard to student safety, according to Kelly Cantwell, senior public information officer for the public safety department. 
However, there are no current guidelines from UC Public Safety regarding online classes. UC's emergency operations plan was created in May of 2017, well before expanding online courses due to the COVID-19 pandemic.
"If classes are going to be held remotely, then the UC Public Safety message should include a statement that campus is closed, but some classes may still be held virtually," said Peplow. "Of course, this requires that faculty are given sufficient notice prior to the public announcement in order to be able to have information regarding their plans posted and waiting for students."
In addition, the Faculty Senate approved a new Online Design Standards, which provides clear design, communication and accessibility standards. The newly approved standards are based on the National Quality Matters standard with the overall goal to create best practices for online learning in higher education.
"For an effective, fully online experience, the designer needs to follow the best practices of the online standards that has just come through Faculty Senate," said Ruth Benander, a professor of English and communication and previous director at the Center for Teaching and Learning. "Teaching effective online courses requires a set of design skills distinct from those required for an in-person course. Therefore, the two may be equivalent in quality and learning, but they are different in the designed experience."
Discussions of clear communication about online classes and the expectations of virtual courses are evolving as these virtual courses become common practice at UC.
"This is part of the conversation I want to have, because work on campus is never done, even when we are closed, for a variety of needs and emergencies," said Ferme. "Work as teaching and learning is evolving as we learn from online experiences in the past two years."
https://www.newsrecord.org/news/should-classes-be-held-online-when-uc-closes-some-professors-say-no/article_d66ac796-9447-11ec-b796-0b1cb317b449.html