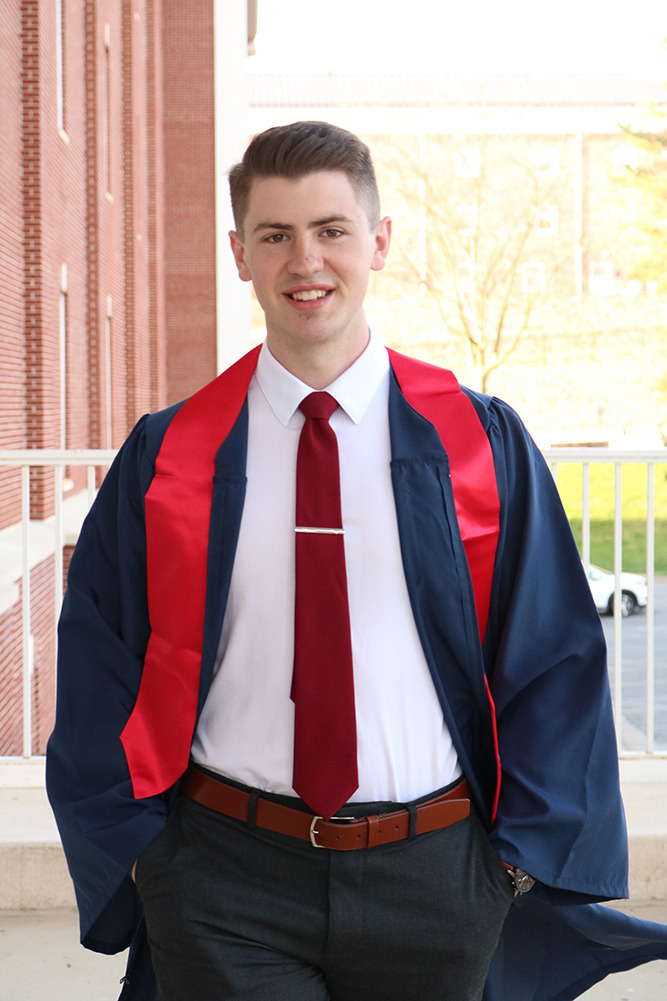 Senior Helms School of Government student Brent Schuliger became the first student from Liberty University to receive the Boren Award National Security Scholarship, a highly competitive honor that allows recipients to travel abroad, study the language and culture of another country, then return to America to work in the federal government.
Schuliger, an international relations student, will be studying at State University of Malang in Indonesia this fall.
"Getting the opportunity to live in a completely different culture where I know nobody, that is something not a lot of people get the chance to do in their lifetime," Schuliger said. "Living abroad is completely eye opening. It changes the way you not only look at the world, but how you look at other people. … Well-rounded people have good careers, so I'm looking forward to not just how this advances my career, but how this impacts me as a person."
The Boren Scholarship sends undergraduate students to countries that are underrepresented in study abroad, countries that may lack a strong relationship with America.
Many Boren Award alumni have assumed careers in the Departments of State, Defense, and Homeland Security, specifically because of the experience obtained through the scholarship.
Schuliger said that the Helms School of Government equipped him to take this next bold career step, citing several extracurricular opportunities that bolstered his application.
While at Liberty, Schuliger participated in the Strategic Intelligence and Foreign Affairs Initiative (SIFA), the Strategic Intelligence Society (SIS), and other sanctioned programs within the School of Government.
"A lot of the experience I was able to point to on my application were things I was able to do with the Helms School specifically," he said. "At almost any other school, I would not have had as strong of an application, simply because of the quality of experience Liberty and the School of Government were able to offer me."
Schuliger thanked multiple professors and administrators, including Associate Professors of Government Scott Roenicke, Admiral Tony Cothron, and Edna Udobong, as well as Associate Dean Joel Cox and Dean Robert Hurt.
"God gave this opportunity to me, and so I think that's what's most important," Schuliger said. "He's calling me there. Personally, I want to use this opportunity to bring glory to Him and steward this opportunity well."
The Helms School has maintained a strong reputation helping its students and faculty apply for and attain scholarships that advance their careers. For the second consecutive year, Liberty has recorded a record number of Fulbright semi-finalists for both the student and faculty programs.
Like the Fulbright grant, the Boren Scholarship is a tremendous resume accolade.
"We could not be prouder of Brent for this achievement," said Hurt. "He will be a great ambassador for Liberty University and for the National Security and International Relations programs here at the Helms School. We are grateful to Brent for his hard work, and we are grateful to the outstanding faculty members here who have made such an impact on this fine young man."
Government student receives Boren Scholarship to study in Indonesia