"I understand why some families have shifted to a permanent home schooling approach," Ms Mitchell said. "I hope this year is the first in two years that we could call a normal school year. I also hope that we can begin to bring some of the students back to the classroom who have opted for home schooling over the past 24 months."
Physical Disability Council of NSW chief executive Serena Ovens said the figures would include many children with a high risk of complications from COVID-19.
"If someone is known to be at high risk of severe illness or death with COVID then some parents will absolutely make that choice, and you can't blame them," Ms Ovens said.
Of the children registered for home schooling, 2874 were in western Sydney and 1099 were from the Hunter region, which includes Newcastle. This could reflect the fact that they are populous regions with a high number of students enrolled overall.
Labor education spokeswoman Prue Car said it could also reflect an under-investment in education in the rapidly growing outer western suburbs, and the government needed to determine if this was driving a push to home schooling.
"There are suburbs with overcrowded schools, suburbs with no schools five to 10 years after people have moved in, and a shortage of teachers," Ms Car said. "It's pretty alarming if parents feel they don't have a choice because every child deserves a quality public school in their area."
The home schooling trend includes Bella, 15, who requested that her last name be withheld, from Wingello in the Southern Highlands.
Bella was identified as gifted in primary school, but it was not until high school that she was diagnosed with ADHD and autism.
Her mother Katherine said Bella was a confident and outgoing child but things "fell apart" when she started year 7 at the bigger regional high school nearby, dealing with the "sensory overload" and "inconsistency" that comes with thousands of students and multiple teachers and classrooms.
The worst year was 2020, when Bella was in year 8 – after the horror of the "black summer" bushfires that affected the family directly – and the disruption of COVID-19 and lockdowns. Katherine tried to get help for Bella, but there was an 18-month waiting list for a psychologist.
Bella was not getting into trouble at school nor being bullied, but she was miserable and exhausted, refusing to go to school, and her marks had plummeted. She begged to try home schooling and at the end of 2020, her parents agreed.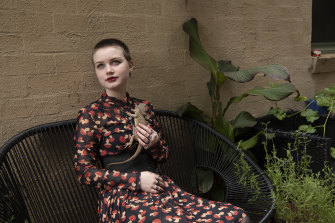 Katherine said she resisted the idea because it would mean dropping to part-time work, but she eventually realised the family and Bella could not survive another year like 2020. She has not regretted it.
"It's actually working out really well – I feel that we've kind of got her back," Katherine said.
Loading
Bella said she has done better than she expected in terms of keeping her learning on track.
"I thought I'd just be really lazy, and I was for a while but as I learned that I have to manage myself, I did it better," Bella said. "That's not something that gets taught to you and so you have to learn these things yourself."
Stay across the most crucial developments related to the pandemic with the Coronavirus Update. Sign up to receive the weekly newsletter.
https://www.smh.com.au/national/nsw/sick-of-the-disruption-dramatic-rise-in-children-registered-for-home-schooling-20220119-p59pfc.html